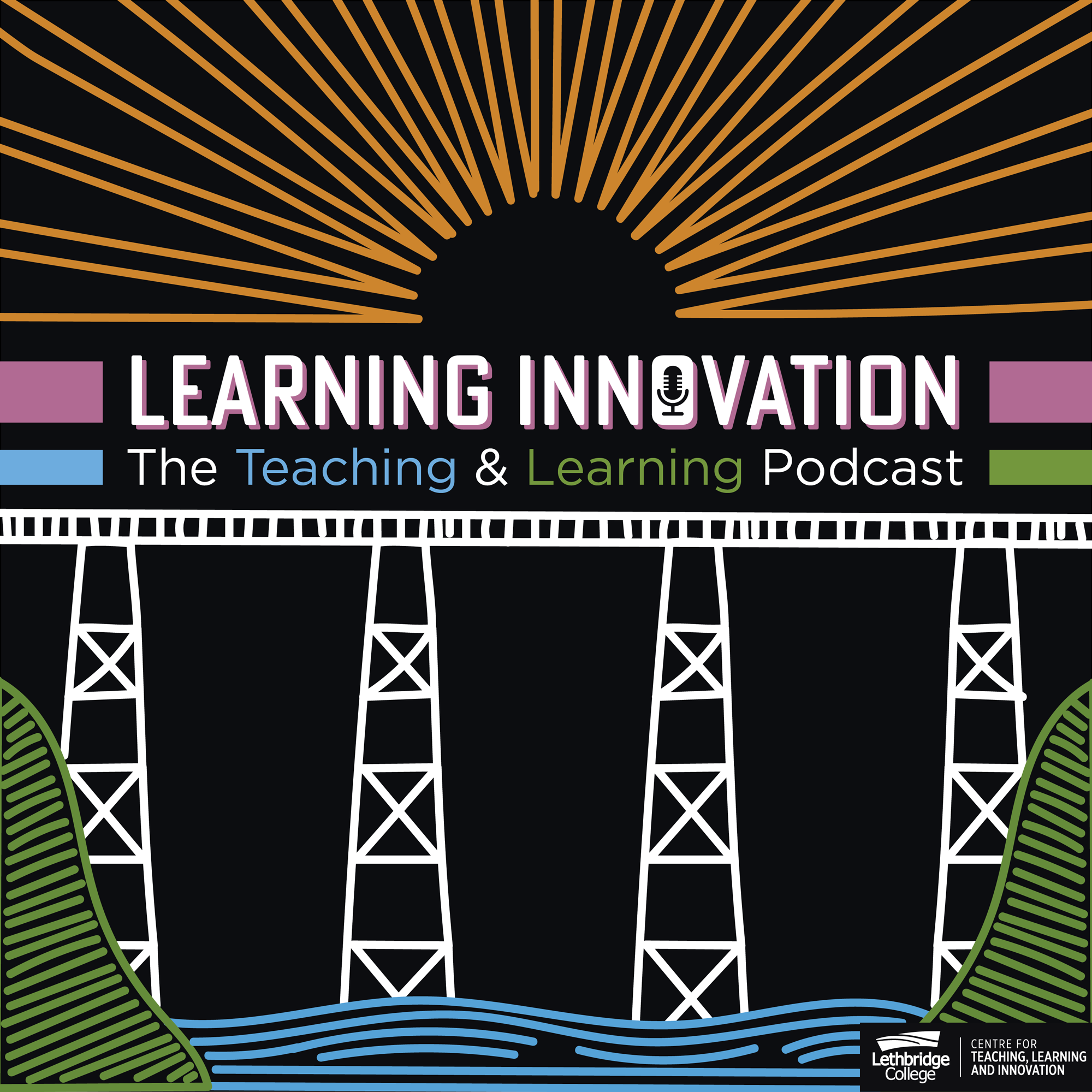 Tune in, hit play, and get inspired as Kirby England (Environmental Sciences instructor) and Lowell Yellowhorn (Indigenous Services interim manager) share their efforts in braiding Indigenous knowledge and western science into Lethbridge College's Environmental Science curriculum. Kirby and Lowell talk about the rich history of traditional ecological knowledge, the power of language in preserving local culture, and how relationship-building is key to traditional ways of learning and knowing.
During the recording, Kirby and Lowell mention:
The podcast's topic phrase, "braiding together Indigenous knowledge and western science" comes from Harley Bastien, a Piikani Elder who also runs Buffalo Rock Teepee Camp
OCAP: Ownership, Control, Access, Protection

The four tribes of the Blackfoot Confederacy:

Kainai-Blood Tribe

Siksika

Peigan-Piikani

Aamskapi Pikuni

The Bahá'í faith
TRC: Truth and Reconciliation Commission of Canada
"Wilderness Defender," Lorne Fitch
Riparian: "Relating to wetlands adjacent to rivers and streams" 
UDL: Universal Design for Learning
TEK: Traditional Ecological Knowledge
A quotation from Confucious: "The beginning of wisdom is to call things by their proper names."
Names for the North American Badger:

Latin: Taxidea taxus
Blackfoot: Miisinssk

Blackfoot name for bison: Iiníí

Blackfoot name for a herd of bison: Iiníí na

Blackfoot name for small eagle (plural): Poksipíítaiksi
Blackfoot name for Lethbridge College: Ohkotoki'aahkkoiyiiniimaan
Blackfoot name for a white person: Náápiikoan
Blackfoot name for beaver: Ksísskstaki 
The official greeting of Lethbridge College is óki, which means "hello" in the Blackfoot language
Iissksiniip (Coming to Know and Learn) Coulee Walk, created by William Singer III (Api'soomaahka – Running Coyote), a traditional Blackfoot plant knowledge keeper and artist
Ma's which means "prairie turnip" in the Blackfoot language
Soka'pii, which means "be good" in the Blackfoot language
Fit for Life: Blackfoot language animal flashcards
Within Environmental Science, Kirby teaches the following programs:
Lowell encourages people to visit the Gathering Place (Indigenous Services) and to check out the Indigenous Student Support Guide
Kirby encourages people with children in their lives to get kids involved with the Ecosystem Explorers Camps, as they role out to elementary, junior high, and high school-age kids
For more Blackfoot words and phrases, check out the online Blackfoot dictionary!